November 23, 2016
Posted by:

toperunsewe

Category:

Business plans, Innovation, Success Tips
Successful entrepreneurs possess the following traits:
1.   Full of determination
Becoming an entrepreneur requires you to set clear goals in the course of your entrepreneurial journey. Inorder to grow your business, increase sales and hire new employees, several mini-goals are required for them to be executed successfully. The workload and hitches along the journey is enough to put an end to the entrepreneurial career path but inorder to be successful, you have to be determined even before going on the entrepreneurial path. With no full determination in place, you tend to crumble under pressure when it arises.
2.  Not afraid to take risks
Most successful entrepreneurs took major risks and it paid of at the end, for instance, ALIKO DANGOTE, the 59 year old Nigerian entrepreneur started business selling sweets in school as a child, after his University education he took a ₦500,000 loan from his uncle and started trading commodities. Currently he is worth $25 Billion and is the owner of the largest Cement manufacturing plant in Africa and possibly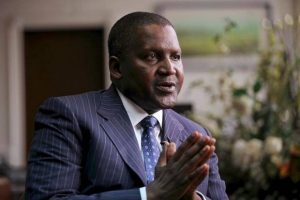 the world. He is the 23rd richest man in the world and his Dangote Group is the largest private employer in Nigeria.
The term 'risk' to people is always being related to financial risk but the risk with respect to Dangote(as he's popularly called) is he investing in such a risky area like Nigeria, he saw opportunities in the very uncertain and tough business environment in Nigeria.
Many would accept it is not realistic to begin a business with next to no cash, yet the individuals who aren't reluctant to take risk don't see 'no cash' as an excuse for them not to start something.
3.   High Confidence Level
Entrepreneurs have a high confidence level. Their slogan is 'get the job done' no matter the circumstances or conditions. They have the understanding that big challenges give birth to big rewards which is why successful entrepreneurs figure out opportunities and possibilities when others don't see the opportunities and the possible.
4.   Willingness to learn
To stay sharp requires that you are constantly learning. Businesses always show signs of change and advance – just those that are additionally developing through steady learning will remain ahead. You will always have competitors breathing down your neck attempting to outrun you. There will always be somebody claiming to be the next greatest thing.
Remaining sharp, through steady learning, will empower you to remain ahead and avoid being surpassed. Read books and wake up prior in the morning to read industry news – do all that you can to always learn and retain new information.
5.   Understands disappointment is part of the game
The manner by which a starting entrepreneur manages disappointment distinguishes him as an individual. Indeed, disappointment is one of the key to accomplishment, since a portion of the best thoughts emerge from the powder of a crumbled business."
In the event that you comprehend that disappointment is a part of being an entrepreneur, you will take those disappointments and utilize them as learning encounters. Genuine experience, notwithstanding failure, will show you more than you could ever learn in a classroom.
6.   Enthusiastic about his or her business
Enthusiasm energizes the drive and assurance required to be effective, whether you are building a company starting from the earliest stage or purchasing an Internet business that as of now has a proven reputation.
You need to altogether appreciate what you are doing – there will be long days and evenings and at some point your business will envelope you. If you are not completely energetic about what you are doing the added anxiety and setbacks will develop on your shoulders and in the long run be responsible for your collapse.
7.   Exceptionally Adaptable
If business people had the capacity to see what was hiding around every turn, it would make it much less demanding, however, tragically that is not the situation. There can be surprises around each corner, even with a well thoroughly considered arrangement and system.
If you are amazingly versatile it gives you the capacity to react rapidly in any circumstance. This permits you to settle on choices that will explore you out of inconvenience and permit you to flourish in situations that would sink those that aren't versatile.
8.   Good understanding of money management
Poor financial choices, for example, overspending or distributing assets to less critical assignments can rapidly destroy a business.
Have a clear budgetary guide drawn out – what are your basic month to month costs and commitments? What amount would you be able to designate month to month for things that fall outside of the "fundamental" class? Adhere to your arrangement and ensure all authors and shareholders are in agreement. Cash issues can obliterate a business the same way they can destroy a marriage.
9.   Expert at networking
Substantial accumulation of business cards and an immense contact list doesn't make you a specialist at networking. Building esteem based connections that are really important is the thing that networking is about – these are the connections that prompt to business openings and long haul connections that are commonly useful.
I am always connecting with individuals that can help my business as of now, as well as can possibly help me later on also. Try not to be narrow minded while networking. You ought to always know how you can help somebody and give esteem to them before considering how the relationship will be possibly advantageous to you.
10.    Ability to sell and promote
Knowing how to sell is a significant part of being a successful entrepreneur.
If you can't express that which makes your products or services an answer to a problem, you will be in for an unpleasant ride. If you, the maker, can't clarify it, then who will?
Share in the comment section below additional traits of successful entrepreneurs…