EXECUTIVE SUMMARY
THE TOPE RUNSEWE FOUNDATION is a non-profit organization set up to empower high potential individuals who lack the financial capacity to fund themselves through school. The Tope Runsewe Foundation offers scholarship opportunities to these potential high impact individuals making It possible for them to further their education.
NEED STATEMENT
According to the World Bank, education is a human right, a powerful driver of development and one of the strongest instruments for reducing poverty and improving health, gender equality, peace, and stability.
Education delivers large, consistent returns in terms of income and is the most important factor to ensure equality of opportunities. For individuals, it promotes employment, earnings, health, and poverty reduction. Globally, there is a 9% increase in hourly earnings for one extra year of schooling. For societies, it drives long-term economic growth, spurs innovation, strengthens institutions, and fosters social cohesion. Indeed, making smart and effective investments in people is critical for developing the human capital that will end extreme poverty.
Developing countries have made tremendous progress in getting children into the classroom and more children worldwide are now in school. But learning is not guaranteed, as the 2018 World Development Report (WDR) stresses. For about half of the students, schooling is not learning. Hundreds of millions of children cannot read or write despite having attended school. In Sub-Saharan Africa, almost 90 percent of students do not have the minimum skills in reading and math.
And not even all children are in school. Some 260 million children are still out of primary and secondary school.
GOALS AND OBJECTIVES
Our Engagement Strategy is a three-step framework;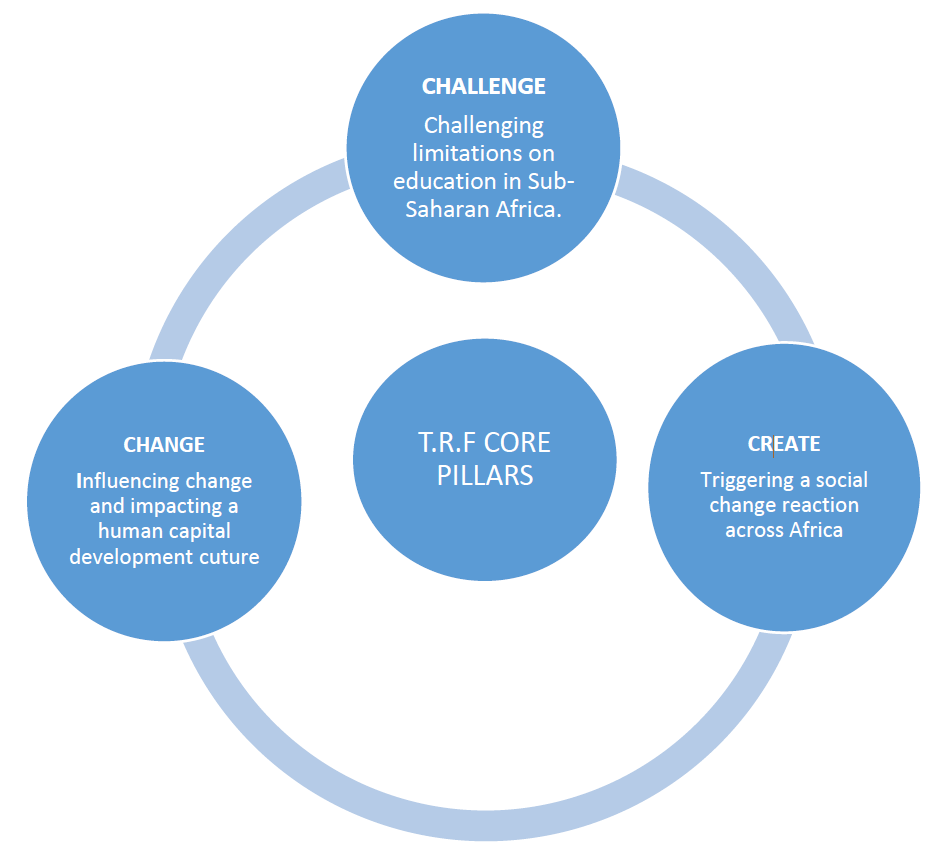 The goal of the T.R.F is to make a positive difference in the development of human capital in Sub-Saharan Africa, by empowering individuals through scholarship programs ensuring adequate
FOUNDATION LAYOUT
The Tope Runsewe Foundation scholarship program is our major platform for promoting our vision and goals of human capital development. The scholarship program awards scholarships to qualified individuals who are indigenes and residents of African countries, and have been offered admission to tertiary institutions.
The TRF scholars program grants individuals the opportunity to acquire a first degree at federal institutions, providing them with the opportunity to further their education
It grants these individuals the opportunity to build up the leadership potentials that are so evidently lacking in the leaders of our society, integrated in the 4 / 5-year duration of the scholarship. The scholarship program covers the full academic fees for 4 / 5-year duration of study and in some categories, travels and living expenses for the duration of the course of study.
Each awarded candidate becomes a Tope Runsewe Foundation Scholar (DOF Scholar) and is expected to meet up with the requirements in order to remain a DOF Scholar.

TRF UNDERGRADUATE ONE WORLD SCHOLARSHIP PROGRAM
The TRF scholarship undergraduate program is for academically excellent students who want to receive a first degree from any Federal University in Nigeria of their choice. Scholars must be African, be a permanent resident of an African country and meet the requirements for admission to any of the universities before applying for the scholarship, i.e. you must have secured your admission before applying for the scholarship.
This program is available for individuals seeking admissions in any of the following fields in the building/construction industry.
Architecture
Estate Management
Urban and Regional Planning
Building
Quantity Surveying,
 ELIGIBILITY
Candidate must be 15 to 25 years' old
Candidate must possess an admission offer from a Nigerian Federal University
Candidate must be enrolled for a 4 / 5-year program
 CRITERIA
Exceptional academic achievement
Significant involvement in school and community activities
The scholarship will be reviewed on a yearly basis based on performance. Candidate must maintain a certain grade point average to maintain scholarship offer.
 PROCEDURE
Application opens 26th of August through 15th of September.
Two letters of recommendation (from other than relatives) are required

At least one letter must be from a Civil servant and one from a teacher from the secondary school the applicant graduated from. The letter should speak to the character, integrity and or uniqueness of the student.
Copies of reference letters from your Guidance Department file are not acceptable.

All questions must be answered completely.
Include a copy of High School Transcript and Activity Sheet. The Activity Sheet should reflect school and community activities, as well as any awards and recognition you have received in these activities.
Finalists will be interviewed by the selection committee in early November
The scholarship will be awarded last week in November / first week in December.
CLICK HERE TO APPLY FOR THE UNDERGRADUATE SCHOLARSHIP PROGRAM.
TRF UNDERGRADUATE FIELD STUDY SCHOLARSHIP
In partnership with Dutum Company, the TRF undergraduate field study scholarship is designed to grant current students of tertiary institutions undertaking courses in any of the following fields listed below scholarship opportunities in the form of I.T placements, internships, and job placements in Dutum and other companies in the building / construction industry.
Architecture
Estate Management
Urban and Regional Planning
Building
Quantity Surveying,
ELIGIBILITY
Candidate must be between 200 – 500 level of a Federal university in Nigeria to Apply.
Candidate must be enrolled in any of the courses listed above
Candidate must be seeking to pursue a professional career in any of the related fields above post-graduation
CRITERIA
CGPA must be between 1st class and a second class lower
Displayed significant leadership initiatives
Scholarship between I.T placements [which is typically for individuals within school] and internships [which is typically for fresh graduates] will be reviewed on a performance basis. Candidate must have met certain performance standards during I.T placement to qualify for internship positions.
PROCEDURE
–              Application opens December through January each year.
CLICK HERE TO APPLY FOR THE TOF UNDERGRADUATE FIELD STUDY SCHOLARSHIP