The 7th edition of the West Africa Property Investment Summit (WAPI) 2021, tagged Property Markets Redefined was held in-person and virtually live on the 23rd and 24th November at Four Points Sheraton, V.I, Lagos to a global audience, with over 70 speakers and 600 attendees representing over 170 companies from 20 countries.
The summit was declared open on Tuesday with a press conference moderated by Ayo Ibaru. The panelists at the press conference were Seun Eyitayo, COO of Landwey (official sponsor of the 7th WAPI summit), Tope Runsewe, Dutum CEO, and Laide Agboola, Purple Group CEO.
The press conference was interactive as each of the panelists spoke about how their companies are redefining the real estate sector and the challenges the real estate sector is facing in Nigeria.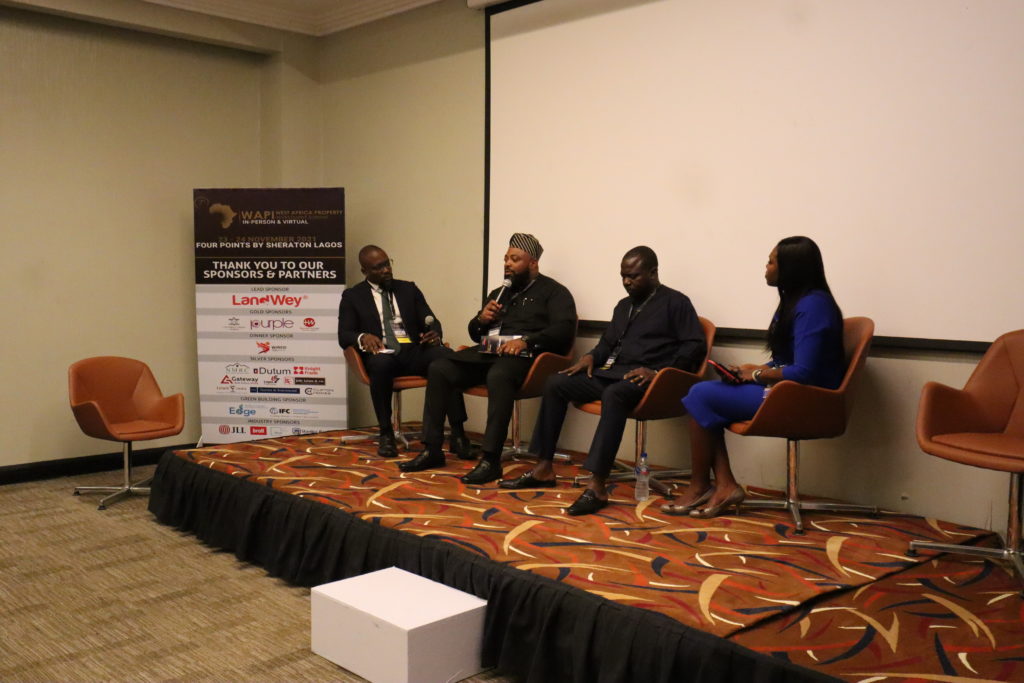 According to Tope Runsewe, "Our company's role is to provide peace of mind, homes for our clients, and service to the public. Also, to ensure that when developers conceptualize a dream we can bring it to reality by providing the actual building construction service. What we would continue to do is to provide value to our clients, and service to the public who are the end-users of every building and product we build."
Purple CEO Laide Agboola said: "The market itself is evolving, and things are changing. From our perspective, we see the future in technology and it is clear to us that it's going to be all about brick, motor, and cloud going into the future. But then brick and mortar are still important for everything that would take place but then we are hinging purple in our direction which is technology. We are delivering the very needed mixed-used development, and that we see the market taking shape. When we say mixed-used encompasses all the elements but then there are other opportunities within the market space, especially in the industrial space but definitely, there is work to be done."
On her part, Seun Eyitayo said "At Landway, I don't think we are redefining as per, we are more like responding to the perceived needs of the people. Shelter is something that is a constant need, as long as there is a population increase, there is always going to be a need for homes and real estate, so what we are doing is being innovative and becoming available products that we have seen that the housing needs of people are changing people are moving from mighty houses to smaller homes, we are responding to that and making products available."
Speaking on the largest opportunity in the real estate market, Purple CEO said: "What we find as the most critical that would be the largest play is technology; Proptech and for us, that is where we are sitting on currently. For us it is not just about brick and mortar, it's about solving the housing deficit and ensuring every Nigerian or African has a housing property in their portfolio no matter how small. However, it is a fact that technology is going to play a huge role in the future of real estate."
Eyitayo stated that Landwey's largest opportunity is with the "millennials who are looking to purchase something compact, which I think is where the largest opportunities are, however, there are still people who are going to buy bigger homes but the bigger opportunities are with millennials and people who are just entering the market and take away the risk for them and help them to ease that process is what we are in to."
She added that the biggest challenge of being in the real estate sector is with the construction workers and workforce in Nigeria.
"The best way to solve these problems is for the government to create more policies and enforce laws. Construction workers need to play their part in making sure work is carried out easily and smoothly," she said.
Speaking on future opportunities, Dutum CEO, Tope Runsewe said, "The future is a combination of several things. First of all, is the understanding of where the majority would be needing houses and then their taste and in brick and mortar, I feel that developments that can combine the ability of the younger generation to live, work, plan and be enabled through technology are where the future lies. We would be seeing several developments coming up, and we would also see technology playing a huge role in how those developments are used."
Laide Agboola highlighted the challenges the real estate industry is facing which are "Policy regulations and implementations, construction risks, urban planning, funding, and human capacity problem." He also stated that the Chinese should not be solely responsible for building roads in Nigeria. According to him, "We are currently in a difficult situation. There is so much we need to do across the value chain to contribute our input to the system."
In agreement, Tope Runsewe started, "Our locals need to participate in construction. Policies have to be put in place for foreign construction companies to engage the local construction companies where they are building. If we continue like this, in the next 50 years we will have them building everything in Nigeria."
A key highlight of the summit was the 16 sessions and discussions that were held including presentations from Nigerian real estate executives. During the second presentation tagged "Trends In The West African Real Estate Market" by Tayo Odunsi, CEO, Northcourt, stated that Senegal came first on the list of real estate investment attractiveness of West African countries with Ghana and Gambia in second and third place respectively while Nigeria is ranked 8th on the list.
The first session on day 1 of the summit tagged "The Redefined West Africa real estate markets: Drivers and New Frontiers" was moderated by Tayo Odunsi, CEO, Northcourt in conversation with Odunayo Ojo, CEO UPDC Plc, Sade Hughes, Nigeria Head, Mixta Africa, Femi Akintunde, Group CEO, Alpha Mead Group and Funke Okubadejo, Director Real Estate, Actis.
According to Femi Akintunde, Group CEO, Alpha Mead Group, the real estate sector is faced with so many challenges that must be solved with collective efforts. He stated that the real estate space cannot be redefined if demand and supply are not on the same level. He further hinged on the need for people to have houses before retirement including pensioners. The government needs to cooperate with real estate developers so that housing will be better and accessible for civil servants. Civil servants do not need to wait to get their pension before they get their one home.
The second session tagged "Will the West Africa residential real estate market remain resilient? Prospects and Challenges" was moderated by Lanre Olutimilehin, CEO, Trillium Real Estate in conversation with Yinka Omoniyi, Associate Partner, Knight Frank Nigeria, Elizabeth Ogonegbu, Regional Representative- Anglophone West Africa, Shelter Afrique, Chima Emerueh, Director, Homework Development and Properties Limited.
The other 14 sessions had more industry experts collaborating on the way forward for the West African real estate market.
The WAPI Summit is the only regional real estate gathering that connects international money to local opportunities and players.